NEW/OLD LOCATION: WE'RE BACK!...at JOXER DALY'S CULVER CITY!!
STARTING SUNDAY, MARCH 19, 2017 at 7PM!
REMINDER: TO QUALIFY for CITYWIDE CHAMPIONSHIP X (SUMMER 2017)
*There is a MINIMUM REQUIREMENT TO PLAY POP QUIZ TEAM TRIVIA for 22 WEEKS*
for EACH TEAM at a Dreambuilders Multi Media location between
Sept. 2016 and June 2017.
*Does not have to be consecutive weeks.
At least 4 members of each team (or entire team if less than 4) needs to fulfill the requirement.
POP QUIZ TEAM TRIVIA CITYWIDE CHAMPIONSHIP IX (CWC IX) !
Back to Back CHAMPIONS!
CONGRATULATIONS TO BROCKTOON! (formerly known as Shart Week)
representing Britannia Pub - Santa Monica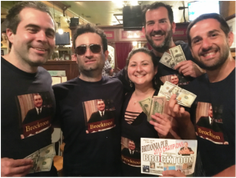 2nd PLACE: CHEESE EATING GREEKS
representing Irish Times/Thur - LA

3rd PLACE: TEAM LEE representing
Finn McCool's - Santa Monica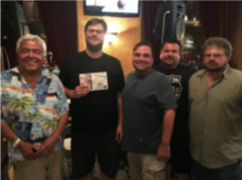 HERE IS THE LIST OF TEAMS THAT COMPETED. WHERE THEY ALL FINISHED IN CWC IX

FINN McCOOL's
AWOL -T26th Place
Raging Hawthorne Huns - 10th Place
The Lotus Eaters -T17th Place
We're the Schvitz - T20th Place
Mr. No Poster Shop - T15th Place
Team Lee - 3rd PLACE

AVENUE A
Mike Ditka in a Box - T26th Place
Squirtle Squad - 6th Place
FoF's on Fire - 34th Place
You Can't Handle the Youth - 30th Place
At Last - T11th Place

​IRISH TIMES- TUES
Your Mom - 8th Place
Fat Kids Are Harder to Kidnap - 9th Place
Quiz on My Face - 13th Place
Melania's Speechwriters - 14th Place

IRISH TIMES - THU
2 Pump Trump - T23rd Place
Cheese Eating Greeks - 2nd PLACE
Pentatonix - 4th Place
Senor Kombucha - 5th Place
I Said Boom Boom
Let Me Hear You Say Way-O - T15th Place

​SUZY'S
Decisions 'Я Us - 7th
Icelandic Rogue Iceberg - 22nd Place
Jill's Giants - T28th Place
If You Can't Do It Lefty, You Didn't
Grow Up With Internet Porn - 32nd Place
I Want To See Juno Hit Uranus - T28th Place

BRITANNIA PUB
Twins & a French - 33rd Place
Brocktoon - 1st PLACE
PJ's - 19th Place
Dirty Sanchez Donkey Punch - 31st Place

TOMPKINS SQUARE
Sweet Zombie Jesus - T17th Place
That Was Our Second Answer - 25th Place
Potatoes - T11th Place
Polish Mafia - T23rd Place
Bite My Shiny Metal Ass - T20th Place
Dreambuilders Multi Media now offers its trivia show for any/all groups.
If you belong to a country club, lodge,
sisterhood/brotherhood, etc.
and would like to see Pop Quiz Team Trivia added to your event calendar,
Please Contact Us and we will provide the details to set up trivia for your group.
Click here for CONTACT INFO
NEWS


Watch for upcoming & exciting Special Events from
Dreambuilders Multi Media!



POP QUIZ TEAM TRIVIA IS FOR EVERYONE &
EVERY OCCASION!


ENJOY OUR PHOTO GALLERY!


2015 WINNERS of SoCAL CITYWIDE CHAMPIONSHIP VIII !


---

ALL OF THE TEAMS AND WHERE THEY FINISHED ARE LISTED BELOW!


2nd place: Mr. No Poster Shop
Representing Finn McCool's
Santa Monica


3rd place: Trans Jenner
Representing Irish Times
(Tues) - Palms (LA)

THANK YOU TO ALL THE TEAMS AND LOCATIONS THAT PARTICIPATED IN
SOCAL CITYWIDE CHAMPIONSHIP VIII !
WE LOOK FORWARD TO SOCAL CITYWIDE CHAMPIONSHIP IX NEXT SUMMER!
START PLAYING NOW TO BE SURE YOUR TEAM
IS ELIGIBLE FOR THE QUALIFYING!


2015 CITYWIDE CHAMPIONSHIP VIII: The Teams & Their Finish

HENNESSEY'S (8PM SUNDAYS)
Borg - 28th place
None Ya's - 30th place
Q & A Holes - 19th place
So Damn Bourgeois - 24th place

JIMMY'S (8PM MONDAYS)
SHART WEEK - 1ST PLACE
80's Babies &a Boomer - 26th place
Elle's Belles - 31st place

FINN McCOOL'S (7:30PM MONDAYS)
American In-Laws - T11th place
Eat Me, I'm a Danish - 6th place
MR.. NO POSTER SHOP - 2ND PLACE
Lee - 15th place

SUZY'S (8:30PM WEDNESDAYS)
At Last! - 27th place
Decisively Hypnotizing Toads - T9th place
Rogue Iceberg Again - T11th place
Roses are Red, Violets are Blue,
I'm Not a Good Poet, Nice Tits! - T22nd pla


AVENUE A (7:30PM TUESDAYS)
Blastoise Squad - 20th place
Go NY Giants - 29th place
Like Whatever - T9th place
My Name is Rod & I Like to Party-T22nd place

TOMPKINS SQUARE (8PM WEDNESDAYS)
Amusing Team Name-T13th pl.
Golf is Not a Sport - T13th place
Sweet Zombie Jesus - 25th place
Vaccines Cause Global Warming - 16th place

IRISH TIMES (9:30PM TUESDAYS)
Miami Connection - 7th place
TRANS JENNER - 3RD PLACE
Team 5 - 5th place
Fat Kids are Harder to Kidnap - 21st place

IRISH TIMES (9PM THURSDAYS)
Cheese Eating Greeks - 8th place
Anyway, Here's Wonderwall - T17th place
Rocketman - T17th place
Senor Kombacha - 4th place (lost tiebreaker for 3rd)

---
2008 SoCal CITYWIDE CHAMPIONSHIP I


SoCAL CITYWIDE CHAMPIONSHIPS II, III, IV & V


2014 SoCal CITYWIDE CHAMPIONSHIP VII

1st place - Senor Kombucha
Back to back titles!


2nd place - LEE*
(Only had 5 players)
*The woman in the photo did not play! She is Greg's wonderful wife who allowed
him to play in the Trivia Championship on their Wedding Day!!!

3rd place -
Cheese Eating Greeks
(Photo op missed)!


2013 SoCal CITYWIDE CHAMPIONSHIP VI


1st Place
SENOR KOMBUCHA


2nd PLACE
FAT KIDS ARE HARDER TO KIDNAP


3rd Place
LEE